Stuart,
Pictures, Pictures we need pictures ! this helps identify the problem and allows us to give you a better answers as to what to do. I would approach this job the following way.
<![if !supportLists]>1. <![endif]>I would first use a single edge razor blade and scrap the area to see if remove anything.
<![if !supportLists]>2. <![endif]>Then I would attempt using a mid acid based cleaner, PLEASE PROTECT THE FITURES USING TAPE
<![if !supportLists]>3. <![endif]>After using the acid cleaner then use a neutral cleaner to neutralize the acid
<![if !supportLists]>4. <![endif]>Then check to see if the material have been remove , if necessary repeat the cleaning process.
<![if !supportLists]>5. <![endif]>Seal with a darkening or color enhancing seal.
<![if !supportLists]>6. <![endif]>If that above does not work , remove the fixtures and hone and repolish
NOTE : IF FIXTURES NEED TO BE REMOVED I WOULD RECOMMEND A PLUMBER REMOVE THEM. IF A LEAK DEVELOPES YOU WILL BE THE ONE HELD RESPONSIBLE , EVEN IF THEY START LEAKING WEEKS AFTER YOU PERFORMED YOUR WORK. I WOULD NOT WANT THAT LIBIABITY .
John E. Freitag
President/Director
The Stone and Tile School
Office 407-567-7652
Cell 407-615-0134
jfreitag@thestoneandtileschool.com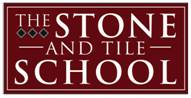 From: Stuart Young [mailto:santafefc@sbcglobal.net]
Sent: Wednesday, July 08, 2009 6:03 PM
To: Restoration and Maintenance
Subject: [sccpartners] Black granite
I just looked at a small granite slab in a bathroom vanity. The granite is discolored around the hot and cold water fixtures. It looks like water marks. It feels etched. The granite is lighter in color in those areas. How can we remove these marks and prevent further discoloration?
---
Powered by http://DiscussThis.com
Visit list archives, subscribe, unsubscribe or change your subscription preferences
Start a new conversation (thread)