John,
I heard that StoneCare Central now has the new color enhancer. I requested that I put on the list to receive a sample for testing, I never received it. On Monday I spoke to another partner who requested they put on the list to test the product. They did not receive a sample either ……. I won't use or recommend any products until I've tested it and get feedback from others. If StoneCare Central wants to sell their products their going have to provide samples.
Sparks Stone Glamour is popular here and I've seen it in several slate showers. Aldons SBS Sealer is similar but has less solids allowing it to penetrate dense surfaces. No rain here ..…… but we could use some. I live in the High Desert of New Mexico ……..
I'm going to work-up a sample with a couple different products for the customer and let them choose. I always tell them the pros and cons of each finish so they can make a informed decision.
Thanks,
Joe
From: John Freitag [mailto:jfreitag@thestoneandtileschool.com]
Sent: Thursday, July 30, 2009 6:38 AM
To: Restoration and Maintenance
Subject: RE: [sccpartners] Sealer for a Slate Shower
Joe ,
I also do not like the idea of putting a topical sealer on the slate in a shower or anywhere else.
I would use a color Enhancing Seal from StoneCare Central, I recently did a cleft slate job in Miami and the customer wanted to enhance the color . We used the color enhancing seal from Stone Care Central anf the customer was very pleased with the finish. We applied 2 applications and it gave the stone a great color and lift a slight shine on the slate.
If you need a glossy color I have used a topical seal form Sparks called Stone Glamour. This product I have used both interior and exterior and it works well, however it is a topical. I did not have any problems with it on the exterior application. These area are exposed to the weather elements including the great rain storms we get in Florida and we had NO problems.
The Stone Glamour is a solvent based product
John E. Freitag
President/Director
The Stone and Tile School
Office 407-567-7652
Cell 407-615-0134
jfreitag@thestoneandtileschool.com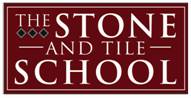 From: Stone & Grout Meister, LLC [mailto:mail@stoneandgroutmeister.com]
Sent: Wednesday, July 29, 2009 11:36 PM
To: Restoration and Maintenance
Subject: [sccpartners] Sealer for a Slate Shower
I looked at a slate shower tonight that a cleaning lady used a product in a blue bottle to try and clean it. Anyway the cleaner left a white film and run marks on the slate tile. Not a big deal cleans up with honing powder and a carbide brush on an angle grinder. The installation is about 15 years old, the installer applied a water base topical finish to the slate which has worn off below the water line. What's the best finish to put on slate in a shower ? I don't like the idea of putting a topical finish on the slate, especially in a shower. It would be easy to maintain, but if had to be the removed it could be a real task. The home owners want something that will bring out the colors and give it a wet look ……. In the past I've used SBS Sealer by Aldon http://www.aldonchem.com/pr-sbs-sealer.htm on exterior slate installations but not in shower. A color enhancer is another option but the slate has a lot of texture and an enhancer would not seal those areas. Any recommendations would b greatly appreciated ……………. Thanks
Joe
---
Powered by http://DiscussThis.com
Visit list archives, subscribe, unsubscribe or change your subscription preferences
Start a new conversation (thread)
---
Powered by http://DiscussThis.com
Visit list archives, subscribe, unsubscribe or change your subscription preferences
Start a new conversation (thread)