Stephen,
Many limestone have natural iron in them and oxide, some worse than others. When the floor is wet it hides the stain and the enhancer never darkens the stone as much as the water does. Be careful with this stone that the stains don't get worse as you work on it wet.
As much as I dislike doing anything dry due to the dust have you tried to dry hone these areas to lighten the stain?? Sometime this works to help hide the stain.
John E. Freitag
President/Director
The Stone and Tile School
Office 407-567-7652
Cell 407-615-0134
jfreitag@thestoneandtileschool.com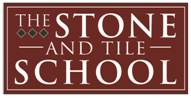 From: stephen@newlifemarblerestoration.com [mailto:stephen@newlifemarblerestoration.com]
Sent: Friday, April 08, 2011 1:16 AM
To: Restoration and Maintenance
Subject: [sccpartners] Water stains
Greetings all, Im working on limestone floor that has some water stains. the worst tiles have been replaced and they left some that the stains were not to bad. When the stone gets saturated with water you can't see the stains, but ehancer doesn't seem to do the same thing. anyone know why?
---
Powered by http://DiscussThis.com
Visit list archives, subscribe, unsubscribe or change your subscription preferences
Start a new conversation (thread)