Paul,
This is a follow up to our phone call today, I would switch over to granite diamonds , hone up to 3000 this should give you some shine, then instead of using the granite powder with crystallizer , replace the crystallizer with water and use a hog hair pad. I think you will achieve the finish you and the customer are looking for.
John E. Freitag
President/Director
The Stone and Tile School
Office 407-567-7652
Cell 407-615-0134
jfreitag@thestoneandtileschool.com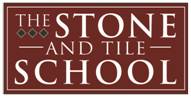 From: rosen.stuart@gmail.com [mailto:rosen.stuart@gmail.com] On Behalf Of stuart rosen
Sent: Friday, April 08, 2011 7:56 AM
To: Restoration and Maintenance
Subject: RE: [sccpartners] Stone ID
Paul-dont you just need to hone this? maybe a slight sheen to it? I think its called Fossil green honed limestone?
Just for giggles try a small test area using sandpaper or screens, Start lower- see what you get at 220 and higher. Its possible you may be able to get a better result dry.At least you will be able to see what you are doing. If you do maybe you can finish with 1500 or 3000 twister or norton at high speed and dry. If it does work you would have to protect the area from dust. Those genesis resin pads are very good there made by abrasive technology in canada. Just a thought.
On Fri, Apr 8, 2011 at 6:02 AM, Fred Hueston <fhueston@gmail.com> wrote:
I would try a granite polishing powder with Crystallization fluid. do not use water just the fluid.
On Fri, Apr 8, 2011 at 1:16 AM, <stephen@newlifemarblerestoration.com> wrote:
Do you have/ tried genisis resin diamond discs? They work great for the softer/abrasive stones
----- Original Message -----

Sent: Thursday, April 07, 2011 6:31 PM

Subject: RE: [sccpartners] Stone ID

Some of the green stone don't polish at all. You can get a little sheen but no gloss.

Try a little of MB 20 and hopefully you can get richer color and some gloss.

On Thu, Apr 7, 2011 at 6:59 PM, <PBunis@aol.com> wrote:

When I started the stone had a light shine, and lots of etchmarks. The original intent was to remove etchmarks and go to 400 diamonds and then use 800 grit honing powder. Only the honing powder produced no result. In fact, the stone looked dull and lifeless at this point. Tried color enhancer, no luck.

At this point, I was simply looking for some type of result, a way to put some life back into the stone

I started (using VS diamonds) at 120 because there were several etch marks. When they didn't come out with 120 I dropped to 50 and was successful. Then I just ran the diamonds up to 800 and tried to polish with 5x.. No result.Then I proceeded up the grits. Tried MB 12. No result. Tried 5x again, no result still. In the end, the only thing that gave me any "shine" was crystalizer, which looked aweful (but shiney).

Now I have to go back and get some better results.

---

Powered by http://DiscussThis.com
Visit list archives, subscribe, unsubscribe or change your subscription preferences
Start a new conversation (thread)

---

---

No virus found in this message.
Checked by AVG - www.avg.com
Version: 10.0.1209 / Virus Database: 1500/3558 - Release Date: 04/07/11



--
Frederick M. Hueston PhD
www.stoneforensics.com
www.stoneandtilepros.com
Recommended stone care products http://www.stonecarecentral.com

Many of my informational articles can be found at www.stoneandtilepros.com
---
Powered by http://DiscussThis.com
Visit list archives, subscribe, unsubscribe or change your subscription preferences
Start a new conversation (thread)



--
---
Powered by http://DiscussThis.com
Visit list archives, subscribe, unsubscribe or change your subscription preferences
Start a new conversation (thread)