Tony,
What did you use in your poultice mixture? Some make ups are oil based, some are made more natural using natural products.
I would first try a poultice using peroxide 30 to 40 volume (purchase from a beauty supply ) if that does not remove it try using an alkaline based stripper or low odor mineral spirits .
If the stone is deep you may need to open the stained areas using a 120 or 220 diamond then apply the poultice. After the stain is gone then repolish.
John E. Freitag
President/Director
The Stone and Tile School
Office 407-567-7652
Cell 407-615-0134
jfreitag@thestoneandtileschool.com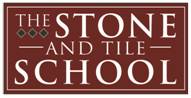 From: Excel Master Floor Care [mailto:excelmasterfloorcare@cox.net]
Sent: Saturday, April 09, 2011 11:19 AM
To: Restoration and Maintenance
Subject: [sccpartners] Carrera Marble
I have a client with a makeup stain on a white Carrera Marble vanity. I have tried basic poultice but it did not come out. Any suggestions would be appreciated.
Thank you,
Tony Warney
Excel Stone and Tile Care
---
Powered by http://DiscussThis.com
Visit list archives, subscribe, unsubscribe or change your subscription preferences
Start a new conversation (thread)