Stuart,
Depending upon the absorption rate of the tile the sealer on the grout lines could be protecting the grout and the tile where the sealer was on the tile. Depending upon the type of sealer used the sealer could have left a topical residue on the tile and grout. Therefore when the tile get wet the un sealed tile absorbs some of the moisture that is darkening the tile and the sealed areas are repelling the moisture, thus leaving a visible difference between the sealed areas and the unsealed areas. I would suspect the seal used was a sealer that left a topical residue on the tile and depending on the sealer it may be very difficult to remove.
John E. Freitag
President/Director
The Stone and Tile School
Office 407-567-7652
Cell 407-615-0134
jfreitag@thestoneandtileschool.com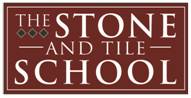 From: info@restoreyourtiles.com [mailto:info@restoreyourtiles.com]
Sent: Monday, June 06, 2011 10:46 AM
To: Restoration and Maintenance
Subject: RE: [sccpartners] Sealing Problem
I think this is the case of too much beer mixed with stupidity.
Anyhow, was that sealer topical or impergnating? if your stripper didn't take it off try the stripper from HD (Tile Lab) that I found works very well with their sealers. If that doesn't work than you may consider sealing entire patio.
Adam Bartos
BiO Tile
Sent via BlackBerry from T-Mobile
---
From: "Stuart Young" <santafefc@sbcglobal.net>
Date: Mon, 6 Jun 2011 09:21:42 -0500
To: Restoration and Maintenance<sccpartners@stoneandtilepros.com>
ReplyTo: "Restoration and Maintenance" <sccpartners@stoneandtilepros.com>
Subject: [sccpartners] Sealing Problem
My clients have a problem with their patio stone. It seems to be some kind of terra cota paver. When it was installed, the installer finished up by sealing with a home depot product. What bugs my clients is that when it gets wet, you can see exactly how far the installer over-applied the sealer. (In some areas, 2 inches beyond the grout lines. Maybe he just happened to have a big brush that day, or maybe too much beer the night before?) You can see this plainly in the attached photos. I wet the pavers and this becomes readily apparent. I tried taking it off with dimethyl chloride (Aldon's Premium Stripper) and I had marginal results. If I can't remedy this problem they will probably tear it out. Any ideas?
---
Powered by http://DiscussThis.com
Visit list archives, subscribe, unsubscribe or change your subscription preferences
Start a new conversation (thread)
---
Powered by http://DiscussThis.com
Visit list archives, subscribe, unsubscribe or change your subscription preferences
Start a new conversation (thread)