Baird,
After you strip off the surface and have it totally clean I would apply Stone Loc. This product will seal the flamed granite and will make the cleaning simple and easy. Ince the Stone Loc is applied it will be years before you would need to reapply. Cleaning is simple, clean with a alkaline based cleaner then follow up with a neutral clean to put the stone back to a neutral PH level and you are done.
If you use an Impregnating / color enchanting seal the stone is still acceptable to staining and the dirt will penetrate deeper. With the Stone Loc it will not allow any staining to penetrate into the stone. CAUTION if you use Stone Loc be sure to follow the instructions completely.
John E. Freitag
President/Director
The Stone and Tile School
Office 407-567-7652
Cell 407-615-0134
jfreitag@thestoneandtileschool.com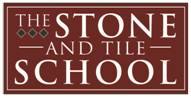 From: Baird Standish [mailto:bairdstandish@gmail.com]
Sent: Wednesday, June 29, 2011 7:51 PM
To: Restoration and Maintenance
Subject: [sccpartners] Granite Maintenance
Hi,
We are working on about 560 sf of a flamed rough reddish granite floor. 3/4 of the floor is exterior with steps and 1/4 is indoors. The granite is part of the lobby of a highrise apartment building. We are stripping an extremely thick coating off of the floor. We will, at the end of the process clean and then apply an impregnating color enhancing sealer. This way they will have a beautiful floor that is easy to maintain without dealing with a coating that is going to fall apart.
The jog is on the expensive side for the management so they asked us to provide a maintenance plan as part of the package. I would think that the only thing I would really need to do on a monthly basis is clean with a neutral cleaner and reapply the impregnating color-enhancing sealer where it has evaporated or washed out. Anyone out there have experience with this type of maintenance? Thanks. Below is a picture of the floor stripped of the coating and a little test square color-sealed to show the differ.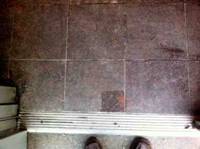 --
________________________________________
From the desk of
Baird Standish
Managing Partner
Facility Specialists, LLC
1616 Walnut St.
Philadelphia, PA 19103
Phone: 215-732-7505
Fax: 215-546-9160
---
Powered by http://DiscussThis.com
Visit list archives, subscribe, unsubscribe or change your subscription preferences
Start a new conversation (thread)