Adam
The key to keeping the grout line as black as possible will be the clean up during the honing process. Hone small areas make sure you gave neutral cleaner in your honing water the help keep the slurry suspended.
After the honing process you may want to use your spinner tool for the finial clean up. If the grout is non sanded you should not have too much of a problem.
John E. Freitag
President/Director
The Stone and Tile School
Office 407-567-7652
Cell 407-615-0134
jfreitag@thestoneandtileschool.com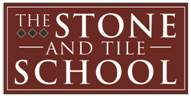 From: Info Info [mailto:info@restoreyourtiles.com]
Sent: Thursday, October 06, 2011 12:14 AM
To: Restoration and Maintenance
Subject: [sccpartners] Keeping black grout black durring limestone restoration
Next week we will be honing dark gray limestone with black grout lines and I must keep the grout as black as possible. We will finish with color enhancer but I can't tell if that will enhance the grout color to the original black. I was thinking about adding some kind of dye to the honing powder. Is this a good idea? What do you recommend and where can I get it?
---
Powered by http://DiscussThis.com
Visit list archives, subscribe, unsubscribe or change your subscription preferences
Start a new conversation (thread)