This looks like a sedimentary type of stone, have you tested to see if acid reacts to the stone. does the stone feel sandy or gritty ? from the pictures I would say no it may not polish. try to polish a small area to see what the stone does. My guess from these pictures, it not going to polish.
John E. Freitag
President/Director
The Stone and Tile School
Office 407-567-7652
Cell 407-615-0134
jfreitag@thestoneandtileschool.com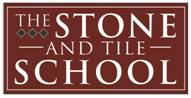 From: Stuart Young [mailto:santafefc@sbcglobal.net]
Sent: Wednesday, October 12, 2011 10:25 AM
To: Restoration and Maintenance
Subject: [sccpartners] stone ID
Yesterday I went to look at a stone floor and I don't know what it is? Can any of you identify this stone?Also, the owner wants to polish the stone. Will it take a polish? Please see attached photos.
---
Powered by http://DiscussThis.com
Visit list archives, subscribe, unsubscribe or change your subscription preferences
Start a new conversation (thread)