The film and that Fred is referring to are made by 3M and work well and there is a company out of Las Vegas that has a film system that works well , but is costly to get into . I need to look up the company name and pass it on.
John E Freitag
Director
The Stone & Tile School
Office 407-567-7652
Cell 407-615-0134
jfreitag@thestoneandtileschool.com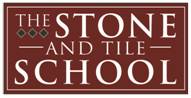 www.thestoneandtileschool.com
From: Fred Hueston [mailto:fhueston@gmail.com]
Sent: Thursday, March 08, 2012 6:03 PM
To: Restoration and Maintenance
Subject: RE: [sccpartners] Marbleloc
Not sure that will do the trick..but there are a few companies that make films and coatings that might.
On Thu, Mar 8, 2012 at 5:57 PM, Paul Bunis <pbunis@aol.com> wrote:
I might as well chime in as well. I have a customer with purple onyx on the kitchen. Designer ERROR. she would like something that will keep counters from etching.
Will marble loc do this ??

Paul Bunis
--

---
Powered by http://DiscussThis.com
Visit list archives, subscribe, unsubscribe or change your subscription preferences
Start a new conversation (thread)