PJ,
When cleaning the time depends upon the area and how dirty it is. Did you do a test??? If not I would recommend one. This tells you several different things,
<![if !supportLists]>1. <![endif]>Are there any coating on the slate that needs to be removed ,
<![if !supportLists]>2. <![endif]>How many times will it take to clean the slate.
<![if !supportLists]>3. <![endif]>What type of cleaner works the best . I would recommend using a alkaline based stripper / degreaser.
<![if !supportLists]>4. <![endif]>How are you going to seal the slate, impregnating sealer ? or a color enhancing sealer?
Even the most seasoned stone guy need to test at least one tile to see how the surface is going to clean.
The biggest problem that occurs even with seasoned stone guys and gals is they assume what it will take to remove the dirt , then when they actually arrive on the job many times it takes longer and more cleaning that expected. This can be prevented by a simple test using a scrub brush , cleaners etc, and test one or two tile . this will then give you the answers you need to determine how long and what to use on the surface.
Hopefully you have not priced the job until you tested the surface. Did you ask the customer what the final result was they wanted?? Sealed or Enhanced Sealed
Do you testing first recommend making up a test kit to carry with you to do the sample during your sales call.
John E Freitag
Director
The Stone & Tile School
Office 407-567-7652
Cell 407-615-0134
jfreitag@thestoneandtileschool.com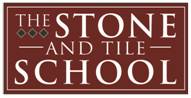 www.thestoneandtileschool.com
From: PJ Raduta [mailto:pjraduta@diamondstoneandtilecare.com]
Sent: Friday, May 18, 2012 4:04 PM
To: Restoration and Maintenance
Subject: RE: [sccpartners] Clean and Seal Outdoor Slate
Hi Everyone,
I am putting together a bid for a large outdoor slate patio. I am new, so the information in this post is helpful, although I have no idea how long this process will take. How long do you normally spend on a 10 sf section?
Diamond Stone and Tile Care - North
On Sun, May 13, 2012 at 7:54 AM, Fred Hueston <fhueston@gmail.com> wrote:
Roger
No I really dont see the need to seal it..especially if it is getting exposed to rain and snow.
On Sat, May 12, 2012 at 12:45 PM, Roger Konarski <qm144@yahoo.com> wrote:
What about sealing slate in a screened porch that is exposed to snow and rain. Would you also recommend not sealing as an outdoor slate patio?
From: Fred Hueston <fhueston@gmail.com>
Sent: Wednesday, May 9, 2012 6:42 AM

Subject: RE: [sccpartners] Clean and Seal Outdoor Slate
I am never a big fan of using sealers outside. first the stone must be dry and in a outside environment that can be difficult. Second, any moisture that is below the stone will need to escape and sealing it could reduce the evaporation rate and could result in the stone spalling. I have seen it many times. Now, I am not saying dont seal it but it is very risky
Why would you not seal this outside slate?

I agree..but test first for color bleeding. Do not seal the outside slate as well.

Looks like bluestone to me. We clean with alkaline and or an acid.
Mason guys use muriatic we don't like to.
I never seal them when their outside .

I'm not an outdoor slate person, so I need help on this one. Please see attached picture. The picture is the outdoor slate but they also have the same stone in a screened in porch. What product should I use to clean with, using my floor machine? 2nd question what should I seal it with?





--
Error! Filename not specified.
--
Error! Filename not specified.
--
Error! Filename not specified.
--
Diamond Stone and Tile Care
---
Powered by http://DiscussThis.com
Visit list archives, subscribe, unsubscribe or change your subscription preferences
Start a new conversation (thread)