The iron out poultice will probably work, if you are applying  on walls I would recommend using a Fullers clay to hold the poultice on the wall.  You will need to Google search for a supplier in your area.
Also keep in mind that the Iron Out will etch the surface the stronger you use it the deeper the etching.
John E Freitag
Director
The Stone & Tile School
Office 407-567-7652
Cell 407-615-0134
jfreitag@thestoneandtileschool.com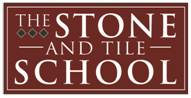 From: Fred Hueston [mailto:fhueston@gmail.com]
Sent: Monday, July 02, 2012 10:51 AM
To: Restoration and Maintenance
Subject: RE: [sccpartners] Thassos marble restoration
I would start with 20% iron out to DE powder. Just mix till its the consistency of yougart...Yes it will etch.
On Mon, Jul 2, 2012 at 1:53 AM, Stuart Young <santafefc@sbcglobal.net> wrote:
Thank you for your responses. I'm curious about using an Iron Out poultice - what sort of ratios are you using for this purpose (how much Iron Out to water).  The directions on the back of the bottle for exterior uses says 1 cup Iron Out to 1 gallon of water.  Does that sound about right?  We tried a stronger Iron Out poultice on travertine and it seemed to etch the stone.
After that I suppose you use as much liquid as necessary to make a nice paste with DE powder?
----- Original Message -----

Sent: Sunday, July 01, 2012 9:00 AM

Subject: RE: [sccpartners] Thassos marble restoration

I think you are right about the water-if these bathrooms get a lot of use then it could be possible the stone gets a good amount of splashing from the hand dryers. Over time there could have been some oxidation. I have seen this with thassos before in shower stalls.

Thassos can be very porous and I think fred will agree has an iron content .If the basic stuff doesnt work try an iron -out poultice.

Hone the areas first then apply the poultice. You can melt the iron out in water and then use a powder or DE to apply it. You can also make a paste withwater and iron out which seems to quite strong ans works pretty well. It also dries out alot faster that way.

On Thu, Jun 28, 2012 at 1:27 PM, Fred Hueston <fhueston@gmail.com> wrote:

From the photos it looks like oils or some type of chemical..I would hone the floor and than scrub it with a good alkaline and than polish

 

On Thu, Jun 28, 2012 at 5:57 AM, Stuart Young <santafefc@sbcglobal.net> wrote:

We will be working on some thassos marble tiles in 2 bathrooms in a hair salon. These tiles form a small band around the rooms on the wall and the majority of the tiles look like new (see photo).  Under the hand dryers, however, there is some darkness, particularly around the edges (photo looks darker than actual tiles - they are mostly white).

We are not sure of the cause of the discoloration - it could be from water from those drying their hands - who knows what chemicals or products are being used in a salon.  Is it possible that the hand dryers (which are directly above these stones) could discolor the tiles from heat?

Our plan of attack is to hone and polish these tiles.  Anyone have any other suggestions?  What would be the best way to prevent this from happening in the future?

---

Powered by http://DiscussThis.com
Visit list archives, subscribe, unsubscribe or change your subscription preferences
Start a new conversation (thread)





--
Error! Filename not specified.




--

 

---

Powered by http://DiscussThis.com
Visit list archives, subscribe, unsubscribe or change your subscription preferences
Start a new conversation (thread)
---
Powered by http://DiscussThis.com
Visit list archives, subscribe, unsubscribe or change your subscription preferences
Start a new conversation (thread)
--

---
Powered by http://DiscussThis.com
Visit list archives, subscribe, unsubscribe or change your subscription preferences
Start a new conversation (thread)