I wouldn't touch it for any less then $500.00
Thank you
Carl Staples
Classic Marble & Stone Restoration
610-356-4100
www.marblerestore.com
---
Date: Thu, 30 Apr 2015 14:53:14 +0000
To: sccpartners@stoneandtilepros.simplelists.com
Subject: Re: deep gouge
From: nobody@simplelists.com
This email was sent from yahoo.com which does not allow forwarding of emails via email lists. Therefore the sender's email address (billselik@yahoo.com) has been replaced with a dummy one.
Lots of variables. Looks more like crystal damage more than just a gouge. You can never guarantee that you will fully remove the white line depending on how deep the crystal damage goes. If you keep grinding you will dip the stone. Also how big is the floor, can you feather to blend to the surrounding areas or are you going to have to do all contiguous flooring so as to match the finish. If you think you can blend you may have a half day to a full days work depending on travel and set up. So in my market I would want $ 350 to $ 500.00 to do the small area with a disclaimer that I can not guarantee to remove 100% of the crystal damage only diminish the crystal damage and blend the finish it to best possible. If they want a guarantee then remove and replace the tiles.
Hope this helps, Bill Selik
Gourmet Stone Care
On Wednesday, April 29, 2015 9:02 PM, Stephen Webb <stephen@newlifemarblerestoration.com> wrote:

What would you guys estimate the cost to repair this 3' deep gouge in a $3mil condo?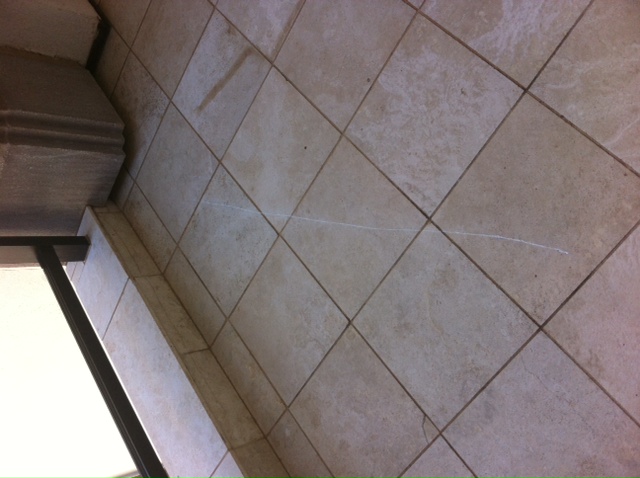 ---
This email is free from viruses and malware because

avast! Antivirus

protection is active.
 
Visit list archives, subscribe, unsubscribe or change your subscription 
preferences:
http://stoneandtilepros.simplelists.com/sccpartners
 
Start a new conversation (thread): 
sccpartners@stoneandtilepros.simplelists.com


 
Visit list archives, subscribe, unsubscribe or change your subscription 
preferences:
http://stoneandtilepros.simplelists.com/sccpartners
 
Start a new conversation (thread): 
sccpartners@stoneandtilepros.simplelists.com