Yes Eric, I know what you mean about getting biz mixed with family's calendar.
This is what my daily calendar looks like and how I seperate the 2 biz & family
Green bar is jobs for the day
Blue are estimate for the day
Yellow are calls for the day
Pink are estimates that were in blue that are cut & pasted to the pink ready to write & email.
Orange are estimates confirmed waiting, transferred from the yellow after I made contact prequalified and gave a ball park price to eliminate price shock.
In my note section they are all categorized by city.
These are the sub categories of city's abbreviated. Out here we got too many very small city's
LAF-MGA-OR-----------------------
WC-CN-CLY-PLHL-MTZ-------------
PLNT-LV-DBLN-CV-TR-MTNHS-----
The second Orange "Work now" are small jobs under $1,000-$500 that have agreed to accept a last minute opening and have agreed to wait for it.
Bright green "HEADLINES" are a list of to do for the day so as not to clutter up my calendar.
Purple is personal family stuff.
Purple really stick out so family stuff is easy to find.
Red is permanently there every day to keep me focused on what is most important.
I do have another section "Grey, Side jobs" these are very easy $250 cash flat fee jobs that I give to my best techs that I completely trust. It keeps them very happy and highly motivated. These are jobs that are too small to ever get on the calendar. Because of this I never have to give bonuses. When too many come in they can pick up $500-$1,000 in a Saturday. Keeps them soooo happy.
Otherwise these are jobs I'd pass on and that help no one because the customer will never find anyone willing to go out to do anything that small much less the skill set to do them.
A win win in my opinion.
It's great how much info one can store in one bar. Each day I move it all down the calendar.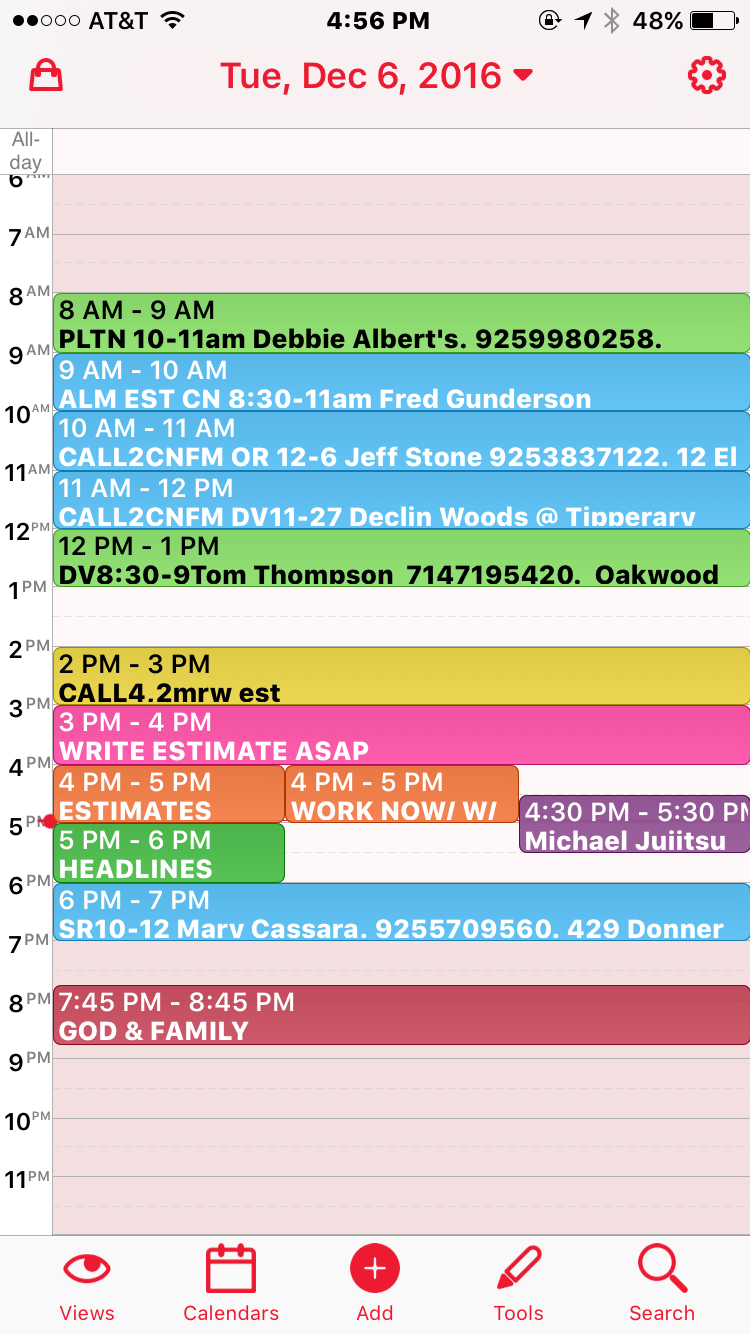 We use the iCalander currently. Green for GA, Red for Orlando jobs. It becomes increasingly difficult to keep tabs on all the calendars via the phone (include personal and family calendars).

I like your method, Tony. I was using a similar technique before we added vans and locations.

Thank You,

Eric Vogel

Counter Crew

407-925-3796

<image001.jpg>

I don't know if my method is the most effective but it works for me...

I use my calendar in my iPhone

I have several colored categories.

First of all I hardly ever answer my phone otherwise I'll get nothing done and that also helps to filter those who are shopping or just want to wast my time with questions.

My message asks for scope of work, square feet and request to send pics to my cell.

Then as I listen to my messages, I log it all on paper in a composition book by city & date so if my phone fails I have a paper copy. It looks Like this...

DV12-5 John Dow 9256256447. Then Address. Then Abbreviated scope of work note.

"DV" is The city abbreviated Danville

12-5 is the day the call came in.

Then I transfer it on the calendar in yellow labeled "Call backs"

From there I call them back & get a few more details then cut & past them to "estimate List" colored Orange which is categorized in notes below by city.

On the day I do estimates I'll copy a few city's to my notes app, enter them on my navigator and go do estimates starting with the closest ones first to minimize back & forth.

As each one is completed I cut & past it on the calendar in blue according to time of day so I know where I been that day. What ever I don't get to on the note app list I delete because it's copied from the main list.

Then I return to Estimate list in orange and delete the ones I got to that day that are entered in blue for the day.

Because of the volume of estimate coming in I put a $$ before the city to note they are priority and most preferred.

I seldom schedule estimate dates unless it's a really big $$ job. Most all of my estimates are done last minute on the fly because I can't commit because too many last minute emergencies on the jobs.

If don't respond we don't get paid then have to return & the prospective work schedule for the week is lost.

So I'd rather make sure I'm available to make sure the techs finish the job before I commit to any estimate.

It seems to me theirs probably a better way... I think it's called an assistant. Then that's additional payroll.

Because work comes from so many places i.e. Email, website, text, phone messages, yelp, this works best for me.

 

Visit list archives, subscribe, unsubscribe or change your subscription 

preferences:

http://stoneandtilepros.simplelists.com/sccpartners

 

Start a new conversation (thread): 

sccpartners@stoneandtilepros.simplelists.com

 

 
Visit list archives, subscribe, unsubscribe or change your subscription 
preferences:
http://stoneandtilepros.simplelists.com/sccpartners
 
Start a new conversation (thread): 
sccpartners@stoneandtilepros.simplelists.com