Also, if you are honing at all, the best time to apply any poultice is after the coarsest grind or hone step. In this way the stones surface area is increased, opening it up and you will probably even remove some of the dirty open surface pores too.
Bob Murrell
Director of Operations
SCC/M3 Technologies Inc.
Cell-865-607-0957
Office-800-342-4533
Skype-robert.murrell8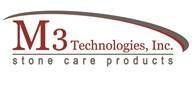 From: sccpartners@stoneandtilepros.simplelists.com [mailto:sccpartners@stoneandtilepros.simplelists.com] On Behalf Of Randy Frye
Sent: Monday, February 26, 2018 2:40 PM
To: sccpartners@stoneandtilepros.simplelists.com
Subject: Re: Poultice out stain from carpet liner
try peroxide 20%
Visit list archives, subscribe, unsubscribe or change your subscription 
preferences:
http://stoneandtilepros.simplelists.com/sccpartners
Start a new conversation (thread): 
sccpartners@stoneandtilepros.simplelists.com