I am assuming these floor tiles are honed so I would recommend using some diamond impregnated pads in the 100g or 200g range. If the etches are extremely bad, you may want to use some flexible metals, before finishing with the dips. If you are using a hand tool to remove the etching it shouldn't be a problem with the lippage. If you need to do the whole 50 sqft, use rubber spacers or a hair pad for cushioning under a 13" or similar smaller machine.
Bob Murrell
Director of Operations
SCC/M3 Technologies Inc.
Cell-865-607-0957
Office-800-342-4533
Skype-robert.murrell8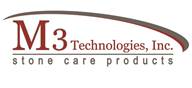 From: sccpartners@stoneandtilepros.simplelists.com [mailto:sccpartners@stoneandtilepros.simplelists.com] On Behalf Of Ken Pistoresi
Sent: Thursday, August 09, 2018 2:01 PM
To: sccpartners@stoneandtilepros.simplelists.com
Subject: Etched Travertine
Hello all I have a client that has a 10' x 5' travertine shower. The floor has four inch tiles with sanded grout. Fifteen of the floor tiles are etched I am looking for suggestions on how to remove the etch marks . My concern is with the small tiles and lippage seems like a pad would get torn up very quick. Thank you for your help.
Ken Pistoresi

Visit list archives, subscribe, unsubscribe or change your subscription
preferences:
http://stoneandtilepros.simplelists.com/sccpartners

Start a new conversation (thread):
sccpartners@stoneandtilepros.simplelists.com